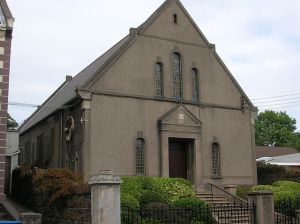 Welcome to the website of Larne Reformed Presbyterian Church
We are a congregation of Christians as well as others.  We gather mainly from in and around the Larne area.  Those who are "born again" are part of a worldwide family united by the cross of our Lord Jesus Christ.
The congregation is composed of older Christians, families, workers, students and children.  Those who are truly converted are all one in Christ Jesus.  We seek to foster fellowship and promote godliness and holiness.  Our mission is to preach Christ crucified and proclaim repentance in Larne and further afield.
We believe in the Divine authority, inspiration, infallibility and inerrancy of Holy Scripture.  The Bible is God's Living Word and He continues to speak to us today.  Hence, we take it seriously.  Our Supreme Authority is Holy Scripture.
Our fellowship is not large but we seek to demonstrate true Christian love.  It is always our hope to be  "speaking the truth in love" (Eph. 4:15).
Our primary activities are preaching the Gospel, teaching the believers, prayer, fellowship, the breaking of bread and evangelism.
We are a congregation of the